Boston Dynamics is a robotics company based in the Boston suburb of Waltham, MA. With support from the US Pentagon, Boston Dynamics has developed battlefield robots which it sells to Israel, US police departments, as well as a host of other state and corporate entities worldwide.
Support for Israel
In 2020, Boston Dynamics partnered with Israeli drone manufacturer Percepto to produce aerial drones and robotic dogs (depicted in image below) which Israel uses to "monitor industrial sites" in and around its illegal Jewish-only settlements in the occupied West Bank and Syrian Golan Heights. The Times of Israel reports: "This symbiosis between Percepto's AIM and Boston Dynamics' Spot robot will allow the dog-like machine to automate inspection rounds completely controlled remotely via the platform, offering high resolution imaging and thermal vision to detect issues including problems on machines or electrical conductors, water and steam leaks around plants, and equipment with degraded performance."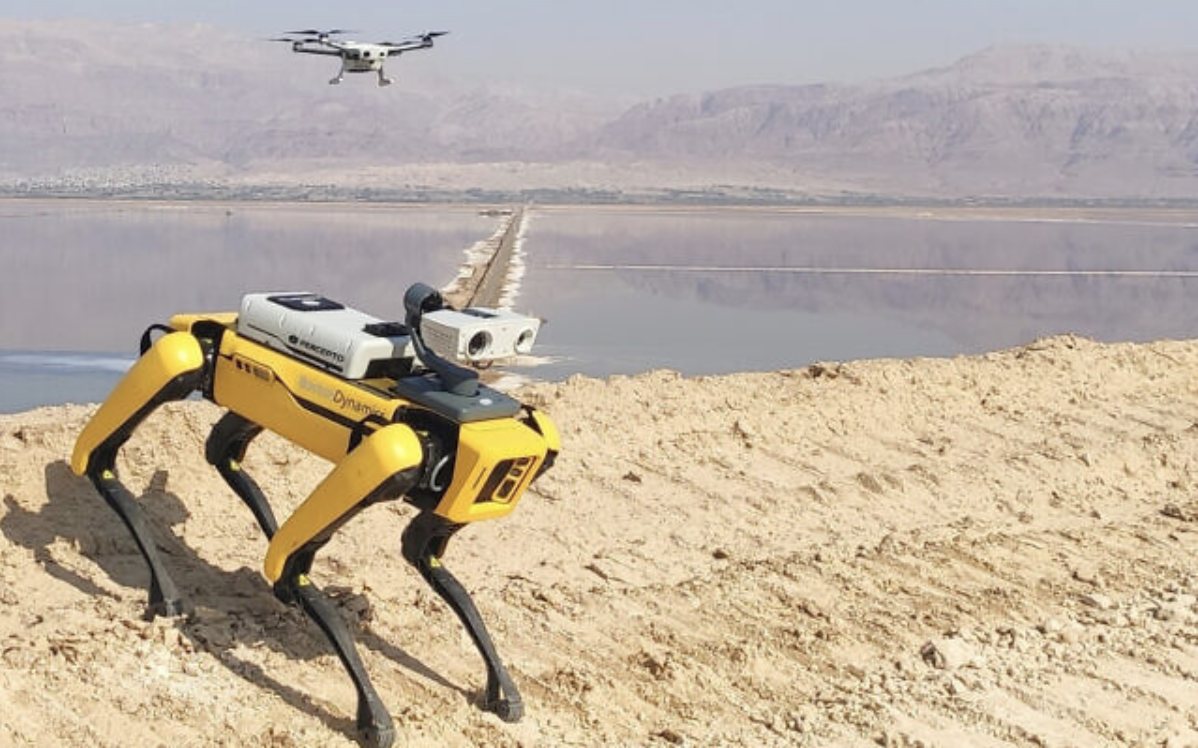 The "industrial sites" Boston Dynamics drones and robotic dogs monitor are commonly referred to as "Settlement Industrial Zones" (IZs or SIZs). Whoprofits.org describes IZs the following way:
There are 91 Israeli IZs. These are special zones planned for the purpose of industrial development and manufacturing ... Israeli IZs constitute a foundational pillar of the economy of the occupation. They contribute to the economic development of the settlements, which are in violation of international law and the Fourth Geneva Convention, while relying on the de-development of the Palestinian economy and the exploitation of Palestinian land and labor.
Support for Police
In addition to these sales to Israel, Boston Dynamics has sold its robotic dogs to numerous major metropolitan police departments across the United States, including the Cambridge Police Department, the Massachusetts State Police, and the New York Police Department. Boston.com reports, "If you're homeless and looking for temporary shelter in Hawaii's capital, expect a visit from a robotic police dog that will scan your eye to make sure you don't have a fever." While Boston Dynamics has attempted to brand its robotic dogs as a benign tool of public health and safety, Police in Dallas Texas have already made use of the technology to remotely assassinate a target, proving that public fears of the robotic dogs' potential to transform urban landscapes into scenes mirroring dystopian science fiction films are not unfounded.
Furthermore, Boston Dynamics' robotic dogs and other unmanned battlefield technologies have provided inspiration to other robotics companies, who are now developing similarly horrifying technologies for similarly repressive purposes. Among these firms is Philadelphia-based Ghost Robotics, who are currently working with US Customs and Border Protection (CBP) to develop a new robotic dog "with specialized sensors or other add-ons" to be used to surveil and track the movements of migrants along the US-Mexico border.
Support for and from the US Military
The US Pentagon has provided Boston Dynamics with funding to carry out research and development of its robotic dogs and other unmanned military technologies, now used widely in Israel, the United States, and around the world. Boston Dynamics has received $117.68 million to date from US Department of Defense contracts. Propped up by this eager support from the Pentagon, Boston Dynamics' dystopian robotic dogs are now available for purchase by both state and corporate entities and can now be found patrolling the streets of numerous nations worldwide (see here and here).
7 links
Boston Dynamics is listed as one of the corporate "partners" of MIT's Center for Brains, Minds and Machines.

Founder and chairman of Boston Dynamics Marc Raibert founded the company in 1992 "as a spin-off from MIT," while working at the MIT Leg Lab. Raibert completed his PhD at MIT, and maintains close ties to MIT today. Raibert serves on the External Advisory Committee at the Center for Brains, Minds and Machines at MIT, and Robert spoke at an MIT alumni event in April 2021.

In August of 2020, MIT, Boston Dynamics, and Brigham and Women's Hospital (HMS) collaborated on "Dr. Spot," a customized version of Boston Dynamics' four-legged, dog-like robot which has been used by the Israeli and US militaries as well as multiple US police forces. The prototype for Dr. Spot made use of the technology's surveillance and data-gathering capabilities to engage in "remote vital monitoring," ie taking the vital measurements of COVID-positive patients.

Boston Dynamics has sold its robotic dogs to the Massachusetts State Police.

The Cambridge Police Department has utilized Boston Dynamics' robotic dogs.

Boston Dynamics has received $817,061 to date from US DoD contracts for the provision of products and services to the US Air Force.

Boston Dynamics has received $7.82 million to date from US DoD contracts for the provision of products and services to the US Navy.

Boston Dynamics has received $33.23 million to date from DoD contracts for the provision of products and services to the US Army.

Boston Dynamics lists IBM ones of its "Solution Partners," noting that "IBM Consulting brings AI models and Edge Computing capabilities to build intelligent SPOT solutions and help organizations scale across on-premise and multi-cloud environments, while conforming to IT and security requirements." (SPOT is the name Boston Dynamics has given to one prototype of its doglike robots.)