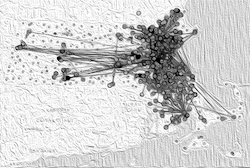 The Mapping Project Stands with Palestine Action
In 2014, Israel murdered 2,202 Palestinians as part of its ongoing colonial war against the Palestinian people. Elbit Systems' Hermes 450 drone and Hermes 900 drone were used to surveil, target, and fire on Palestinian people during this attack. Elbit's Skylark drone gathered intelligence for use during ground military actions by Israel resulting in 11 night raids and the abduction of 350 Palestinians.
Elbit Systems is Israel's largest privately owned arms company and it provides Israel's military with 85% of its killer drones, ammunition for Israel's snipers, equipment for Israel's F-16 fighter jets and Apache and Cobra attack helicopters, and technology for Israel's electronic detection fence system as part of the Apartheid/Annexation wall.
Israel has a long and well-documented history of arming repressive regimes in Central and South America, the Caribbean, Asia, and Africa, and Elbit Systems has also been part of the infrastructure of this support in places like Colombia, Brazil, India, and the Philippines.
In July 2020, Palestine Action was launched in the UK with the long-term goal of ending the over-100-year history of the UK's complicity in the ongoing colonization and military occupation of Palestine. Palestine Action is a direct action focused organization that has, in its two-year history, successfully shut down an Elbit arms factory and Elbit's London headquarters. On October 10th, eight Palestine Action activists known as the #ElbitEight will be facing trial at Snaresbrook Crown Court on charges of burglary, criminal damage, and blackmail, pertaining to actions spanning the first six months of Palestine Action. If convicted, Palestine Action co-founders Huda Ammori and Richard Barnard face up to 38 years of imprisonment.
Palestine Action's statement about this state repression:
In two years of direct action, Palestine Action have severely disrupted the smooth functioning of a business built on bloodshed. For this, we are facing intense political repression. Let it be known that we stand as the accusers, not the accused, and we fully intend to expose Elbit's many war crimes, in particular, the Israeli arms company's role in 74 years of occupation and dispossession lived by the Palestinian people. #ElbitIsGuilty, we are not.
The Mapping Project stands firmly with the Elbit Eight of Palestine Action.
Elbit Systems profits off the death of Palestinians and other BIPOC people. Palestine Action has been working to end this business of imperialist wars and colonial violence. We join other social justice organizations in denouncing the outrageous criminalization of Palestine Action's anti-imperialist and anti-colonial political activities.
Elbit is Guilty. Palestine Action is not.
Take action to support the Elbit Eight:
Sign your organization onto Palestine Action's open letter in support of the Elbit Eight

Write your own organizational statement of solidarity with the Elbit Eight

If you live in the UK, help pack the courts starting October 10th

Send photos

And take creative and inspired take direct action to shut Elbit down wherever you are!
Visit Palestine Action's website to find info on how to take each of these support actions.