The Berklee College of Music is a private, nationally renowned school of music located just South of downtown Boston. Berklee supports and normalizes Israel, promotes a culture of anti-Black racism on campus, and contributes to the displacement of Black and Brown working class residents from the Boston area ('gentrification').
Support for Israel
Berklee College of Music runs an exchange/credit transfer program with Israel's Rimon School of Music. Rimon is a prestigious school of music which prides itself on "multiculturalism," and which the Israeli state and its lobbyists often hold up in their attempts to positively brand Israel in order to whitewash the realities of Israel's colonial subjugation of Palestinians and theft of Palestinian land and resources.
Anti-Black Racism
Students and alumni of Berklee College of Music have highlighted a culture of pervasive anti-Black racism on campus. In 2020, a group of about 45 Black students and alumni came together and compiled a document listing their respective experiences of racism on campus. As reported in the Boston Globe, the document "described the difficulty that people of color have in landing roles in productions, especially lead roles, and of routinely being cast in such demeaning roles as prostitutes and slaves. They also cited a lack of diversity among the school's leadership and faculty." The group of Black students and alumni specifically highlighted "allegations of offensive conduct by [Berklee professor Christopher] Caggiano that include 'publicly castigating' the academic performances of Black students and 'doing a mocking 'jig-dance' next to the screen while a black face video played'."
Contribution to Displacement
Berklee College of Music owns more than 100 acres of real estate in the center of the city of Boston. The land Berklee owns along with the structures built upon it are collectively valued at $261 million (see: MassGIS statewide parcels dataset, 2021). Additionally, every year Berklee attracts thousands of transplants (students, faculty, other staff) into the Boston area, transplants who are, on average, wealthier and whiter than residents already living in the Boston area communities they move into. By gobbling up real estate and fueling this deluge of transplants into local housing markets, Berklee College of Music contributes considerably to the ongoing rise in housing, rental, and living costs in the Boston area (see image below), which is rapidly displacing working class residents, Black and Brown residents in particular, who are no longer able to afford to live in the neighborhoods they have called home for years if not decades ("gentrification").

(Image source: here)
In addition to displacing community members by fueling the rise in local housing, rental, and living costs, Berklee College of Music has taken grotesque steps to prevent the community members it has displaced from so much as being physically present in spaces they once called home, which the campus occupies: In 2018, Berklee installed what have been termed "homeless spikes" upon the ledge of one of its buildings on the corner of Massachusetts Ave and Boylston St, in an effort to prevent unhoused community members from being able sit or lie down upon the building's ledge (see image below). A petition calling for the removal of the "homeless spikes" notes: "This ledge is known as a traditional spot for several homeless people, so the spikes are clearly designed to deter the homeless from congregating there."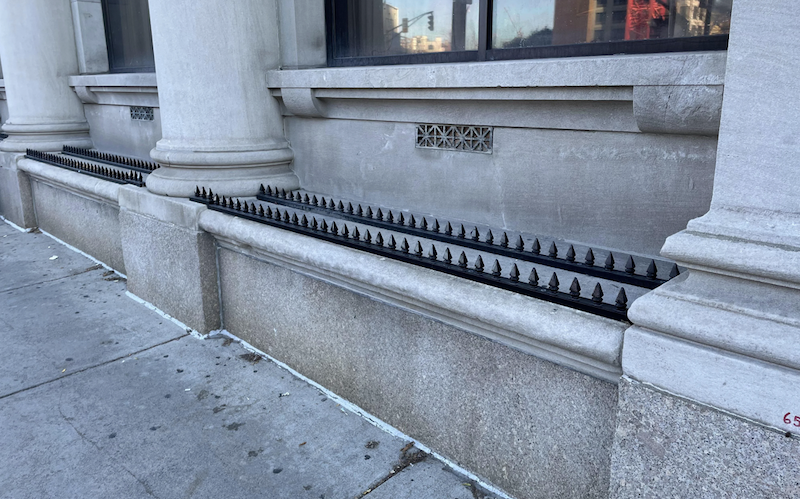 Displacement (or 'gentrification') is often incorrectly conceptualized as an unintentional consequence of inevitable transformations which occur in urban areas over time. Berklee's "homeless spikes" are a stark reminder of the intentionality behind efforts of local universities and tech, biotech, and pharmaceutical corporations to reshape the Boston area into a haven for majority white and professional populations through the planned banishment of preexisting (Black and Brown, working class) communities deemed undesirable. University and corporate giants like Berklee not only dispossess pre-existing, majority Black and Brown and working class community members of their homes and neighborhoods, but also work to prevent displaced community members from returning even transiently to these spaces--a process violently enforced by Boston's countless city and university police forces which exist to serve and protect university and corporate interests.
Furthermore, Berklee's "homeless spikes" drive home the intimate connection between displacement ('gentrification') and colonialism. How different are Berklee's "homeless spikes" from Israel's Nationality and Entry into Israel Law, which prevents the Palestinian populations--who Israel has banished from their land because it sees them as undesirable to the "demographic character" of the zionist state--from returning to their homes and land and reunifying their families on their land? How different are Berklee's "homeless spikes" from the constant harassment members of the Mashpee Wampanoag Tribe have faced over recent years from white settlers in Tauton MA for attempting to return to fish in the waters that their ancestors have fished in for millennia? Indeed, the fact that Berklee College of Music and other Boston area university and corporate behemoths like it are so consistently invested in both colonization and displacement calls into question just how functionally separate these two systems of structural violence are from one another. Perhaps it is no accident that residents of the historically Black Boston neighborhood of Roxbury have recently borrowed a phrase from the Palestinian liberation struggle by declaring their "right to return" to the homes and streets of Roxbury.
9 links
Berklee College of Music has invested in Baupost Group.

Berklee College of Music is an "affiliate campus" of the Hillel Council of New England (HCNE). Working under Hillel International, HCNE directs Berklee students to participate in Zionist organizations and initiatives, while encouraging Berklee students to attend Israel-based internship programs and spring break trips to Israel.




From fiscal years 2007-2020, Combined Jewish Philanthropies funneled $2,064,859 from its donors to Berklee College of Music.

In fiscal years 2019 and 2020 alone, Fidelity Charitable funneled $2,719,846 from its donors to Berklee College of Music.

Through their private philanthropic foundation, Jonathan and Jeannie Lavine have donated $30,000 to Berklee College of Music.

Based on available tax filings, the Joseph and Rae Gann Charitable Foundation has donated at least $4,250 to Berklee College of Music.

The Ruderman Family Foundation donated $5,000 to the Berklee College of Music in fiscal year 2009.

The Klarman Family Foundation donated $1,185,000 to Berklee College of Music from fiscal years 2010-2019.

The Susan and Barry Tatelman Foundation donated $10,000 to Berkley College of Music in fiscal year 2006.