Based in Boston, Liberty Mutual is the world's sixth largest property and casualty insurance company. Liberty Mutual insures and invests in numerous fossil-fuel expansion projects that violate Indigenous land rights and contribute to the destruction of the planet, including the Baralaba South coal mine, the Trans Mountain tar sands pipeline, the Coastal GasLink fracked gas pipeline, as well as oil and gas drilling in the Arctic.
As reported by the Rainforest Advocacy Network:
[Liberty Mutual] has been linked to the Trans Mountain tar sands pipeline network and the massive proposed Coastal GasLink fracked gas pipeline, both of which are being built without the consent of impacted Indigenous communities. Nor does Liberty have any stance on oil and gas drilling in the Arctic National Wildlife Refuge, unlike eleven insurance peers. Despite repeated invitations from communities in Alaska, Australia, Canada, and beyond, Liberty Mutual has refused every single request to meet from Indigenous leaders and frontline communities impacted by its insurance and investment practices.
Moreover, as Jean-Luc Pierite, Board President of the North American Indian Center of Boston, noted at a recent action against the company: "Not only is Liberty Mutual a key-enabler of fossil fuel expansion, the Boston-based insurer has the most ties to the fossil fuel industry with 8 of the 15 directors (57%) having worked in the fossil fuel industry and 6 (43%) holding current leadership roles at fossil fuel companies." Rachel Sherrington elaborates upon this point in an article in DeSmog:
The insurer's directors hold current board memberships at Koch Industries, Canadian Natural Resources Limited (CNRL), ExxonMobil, and utility company Eversource Energy which services Connecticut, Massachusetts, and New Hampshire, and has been targeted by campaigners for its support for the natural gas industry.

Liberty Mutual board member Annette Verschuren, for example, began her career in the Canadian coal industry and is now a director of the Canadian oil and gas company, Canadian Natural Resources Limited (CNRL), which extracts fuel from Canada's highly polluting tar sands. Verschuren's fellow director at Liberty Mutual, Joseph Hooley, has been director of the United States' second largest oil company, ExxonMobil, since 2019. And three further members of the Liberty Mutual board are current trustees of Eversource Energy, while a fourth is the utility's former CEO.
In October 2021, a coalition of Indigenous community members and climate activists took to the streets of Boston to demand Liberty Mutual and JP Morgan Chase stop insuring and investing in companies trampling upon Indigenous land rights and destroying the planet. As the Indigenous Environmental Network reported: "Today's national day of action is kicking off a new youth-led campaign – titled Fossil Free Future – which will go after the financial institutions perpetuating the climate crisis. The Boston event is one of dozens that are taking place nationwide to spotlight Chase, Liberty Mutual, BlackRock, the Federal Reserve, and other major financial institutions."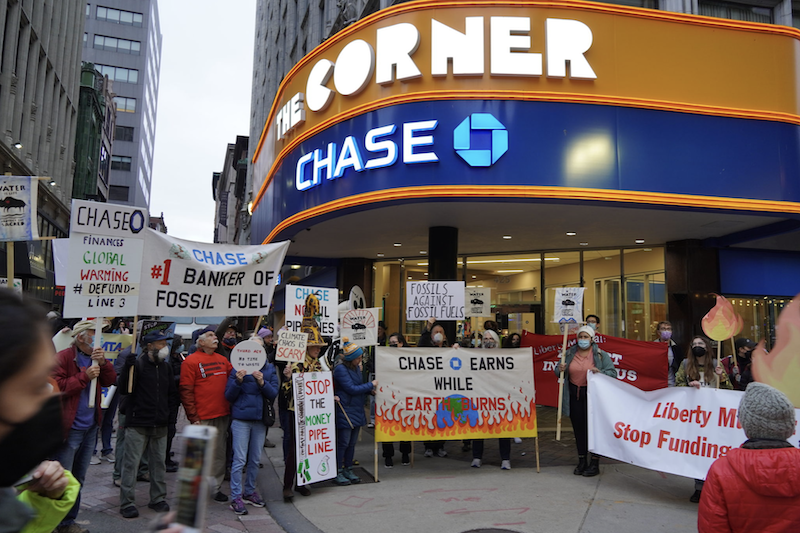 1 links
Association/Collaboration – Harvard Business School

Harvard Business School professor George Serafeim serves on Liberty Mutual's Board of Directors.