The City of Boston supports Israel's ethnic cleansing of Palestinians from their homeland, overfunds the policing of Boston's Black and Brown residents, and advances policies and practices which displace working class Black and Brown residents from the city.
Support for Israeli Ethnic Cleansing
Over the past decade alone, numerous members of the Boston City Council are known to have participated in all-expenses-paid propaganda trips to Israel ("study tours") coordinated by the Jewish Community Relations Council (JCRC) of Greater Boston. Participants in the trips include: Edward Flynn, Mark Ciommo, Kim Janey, Matt O'Malley, Tito Jackson, Josh Zakim, Timothy McCarthy, and Andrea Campbell (joined on the trip by her chief of staff Elizabeth Pimentel). These Israel junkets have paid dividends for the JCRC and other Boston area Zionist lobbying groups: In the lead-up to a February 2019 Boston City Council hearing on a proposal for the city to disclose, divest, and reinvest the city pension fund holdings, then City Councilor Mark Ciommo privately told leadership of organizations backing the proposal that they should reframe from talking about Palestine if they wished for their effort to have a chance to succeed. Activists from these groups, to their credit, refused to be divided by Ciommo's bullying, and highlighted the necessity of divesting Boston pensions from companies including Lockheed Martin and Northrop Grumman who equip the Israeli military, as part of their broader platform of divesting from institutions of violence and reinvesting in programs to meet community needs. However, the statement from then Councilor Ciommo is reflective of a broader code of silence on the Palestinian cause within the Boston city government, and a practice of silencing those who break it.
This code of silence on Palestine was similarly reflected by the mayoral administrations of Thomas Menino (1993-2014) and Marty Walsh (2014-2021), who allowed Boston Police Department leadership to participate repeatedly in all-expenses-paid "counterterrorism" training delegations to Israel sponsored by the Anti-Defamation League (ADL) of New England. The Boston Police department is known to have participated in ADL delegations to Israel in 2011, 2014, and 2016, and it is possible that BPD participated in other delegations about which the public is not yet aware. In 2018, as these police trips to Israel began to face heightened scrutiny and as other cities in New England were pulling out of the training trips (see: here and here), the city of Boston under Mayor Walsh refused to so much as acknowledge calls from Boston community members to end BPD's continued participation in the trips. In the 2021 election campaign to replace Mayor Walsh, then City Councilor and now Mayor (2021-present) Michelle Wu stated in a candidate questionnaire that she opposed ending the Boston Police Department's participation in police exchanges with foreign military forces. True to this stated opinion, Mayor Wu has made no commitments and has taken no actions to date to end the Boston Police Department's participation in these training trips to Israel.
Support for Policing
Over the last three years, the City of Boston has allocated around $400 million annually to the Boston Police Department, with the city's actual annual spending on the BPD usually exceeding these allocated budgets by tens of millions of USD (see image below). With this expansive pool of city resources, the Boston Police Department purchases military grade equipment, maintains its deeply racist "gang unit," and generally floods Boston's Black and Brown communities with more cops than these communities want or need. While some Boston city leaders offered rhetorical support for (moderate) cuts to the BPD's budget following the nation-wide uprisings sparked by the police murder of George Floyd in the summer of 2020, when it came time to actually apportion resources in Boston's FY22 city budget these city leaders fell in line with the demands of Boston's powerful police union and doled out the same massive budget to the BPD as they had in years prior. (See also entry on the Boston Police Department.)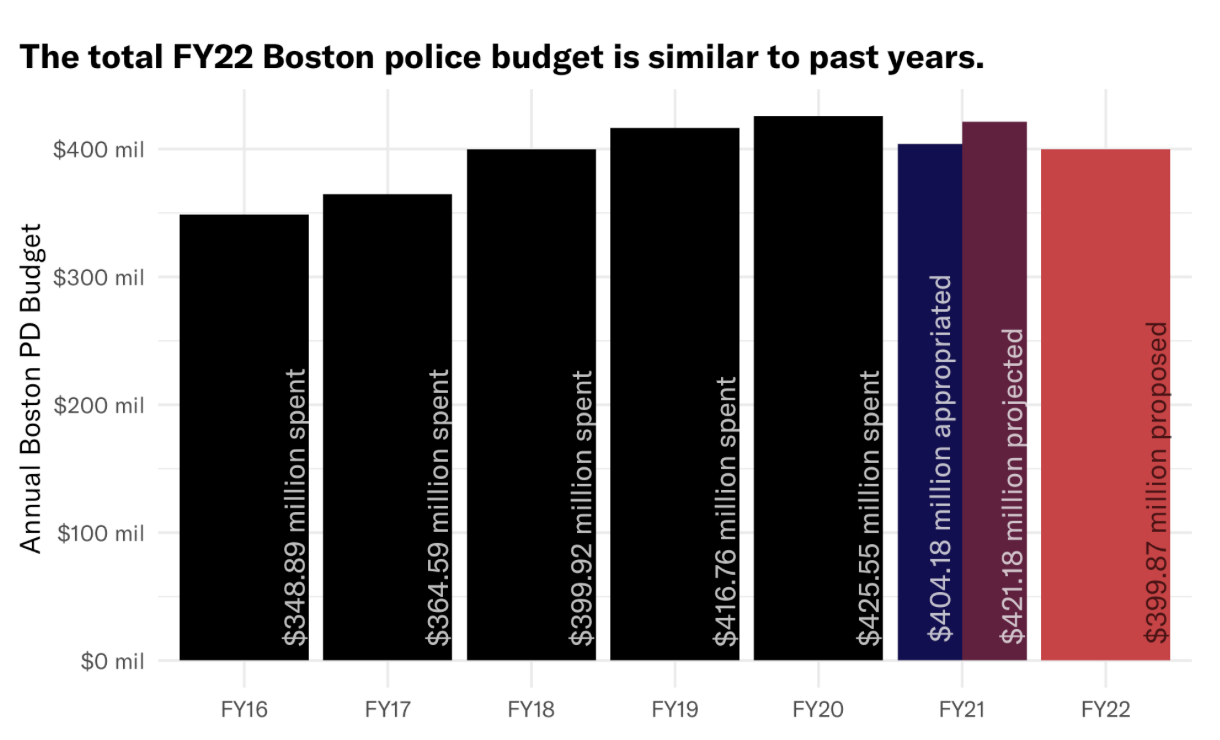 Support for the Displacement of Black and Brown Residents ("Gentrification")
The City of Boston has a long and ongoing history of prioritizing the interests of elite universities, wealthy corporations, and professional-class transplants over the needs of its Black and Brown working class communities, through policies and practices including racist "redlining," "urban renewal," and city zoning / rezoning plans.
The state of Massachusetts maintains a practice known as "home rule," under which local governments retain the authority to make decisions around municipal zoning. Under the home rule system, an unelected agency of Boston's municipal government called the Boston Planning and Development Agency (BPDA), formerly the Boston Redevelopment Authority (BRA), holds the power to determine where additional housing and commercial developments can and cannot be constructed, and how much space within new developments must be reserved for "affordable" housing. A 2008 study on the BRA determined that "members of the community are allowed to advise [the BRA], but the BRA and institutional developers, and ultimately the Mayor, retain the right to make the final decisions regarding the development." An extensive report on the history and present practices of the BRA/BPDA by then Boston City Councilor Michelle Wu further notes:
Leaving large-scale planning and development policy to a self-funded agency answerable only to the Mayor has allowed well-connected insiders to shape the future of Boston with little transparency or accountability. Neither the residents of Boston nor their elected legislators have direct oversight over development and planning decisions. Accordingly, the public must struggle to understand the deals the BPDA negotiates with developers, how those decisions are made, and whether the commitments made by private entities are upheld. The expediency that the BPDA offers well-connected developers looking to maximize short-term gains comes at the expense of a broader vision to benefit the city as a whole and future generations.
With this power, the Boston Planning and Development Agency has consistently created and approved zoning and rezoning plans which have opened Boston neighborhoods up for the construction of new market-rate housing projects, luxury condominiums, and commercial developments. By doing so, the BPDA drives up housing and rental prices in Boston's historically Black and Brown communities and drives out longtime community residents no longer able to afford to live in the neighborhoods they have called home for years if not decades.
The BDPA's central role in the mass displacement of Black and Brown community members from Boston is exemplified by "Plan JP/Rox," a 2016 BPDA rezoning plan for Boston's "Washington Street Corridor." Straddling the Boston neighborhoods of Jamaica Plain and Roxbury, the Washington Street Corridor includes multiple majority Black and Brown, working class communities with rich collective history, notable among them "Egleston Square." However, due to its proximity to the (already heavily gentrified) "South/Center Street" corridor of Jamaica Plain as well as its relative proximity to Downtown Boston, the Washington Street Corridor was (and continues to be) highly sought by real estate developers eager to cash in on rising demand for market-rate and luxury housing in this part of the city. Through Plan JP/Rox, the BPDA aimed to open up substantial amounts of new land within the Washington Street Corridor for such development. While the development of new housing does not necessarily lead to the displacement of communities, the development of new housing at prices unaffordable to communities living in the neighborhoods being developed inevitably does. And this is exactly what Plan JP/Rox did.
Plan JP/ROX required developers building on the land opened up by the plan to reserve only 30% of units in their buildings for "affordable" housing. This 30% affordability requirement presented an immediate problem, given that the percentage of Washington Street Corridor residents unable to afford market-rate rental levels far exceeded 30% (see image below). Furthermore, Plan JP/Rox deceptively defined "affordable" as rental prices manageable to families making incomes at between 50%-70% of "Area Median Income." The U.S. Department of Housing and Urban Development (HUD) defines "Area Median Income" as the median income of people living in a given county, and the 2016 Area Median Income for Suffolk County (the county in which Boston is located) was $98,100 (see: "2016 HUD Median Income for Massachusetts Counties"). Suffolk County's 2016 median income (the basis for AMI) far exceeded the median income of residents who actually lived in the Washington Street Corridor. 50%-70% of Suffolk County's AMI of $98,100 – what the BPDA defined as "affordable" – comes out to between $49,050-$68,670, the lower bound of which exceeds the annual incomes of about half of the residents who were living in the area to be impacted by Plan JP/Rox. Accordingly, even what Plan JP/Rox's defined as "affordable" (a standard that only 30% of units in new developments would need to meet in the first place) was actually entirely unaffordable to a full half of the people living in the neighborhoods which the plan was to impact.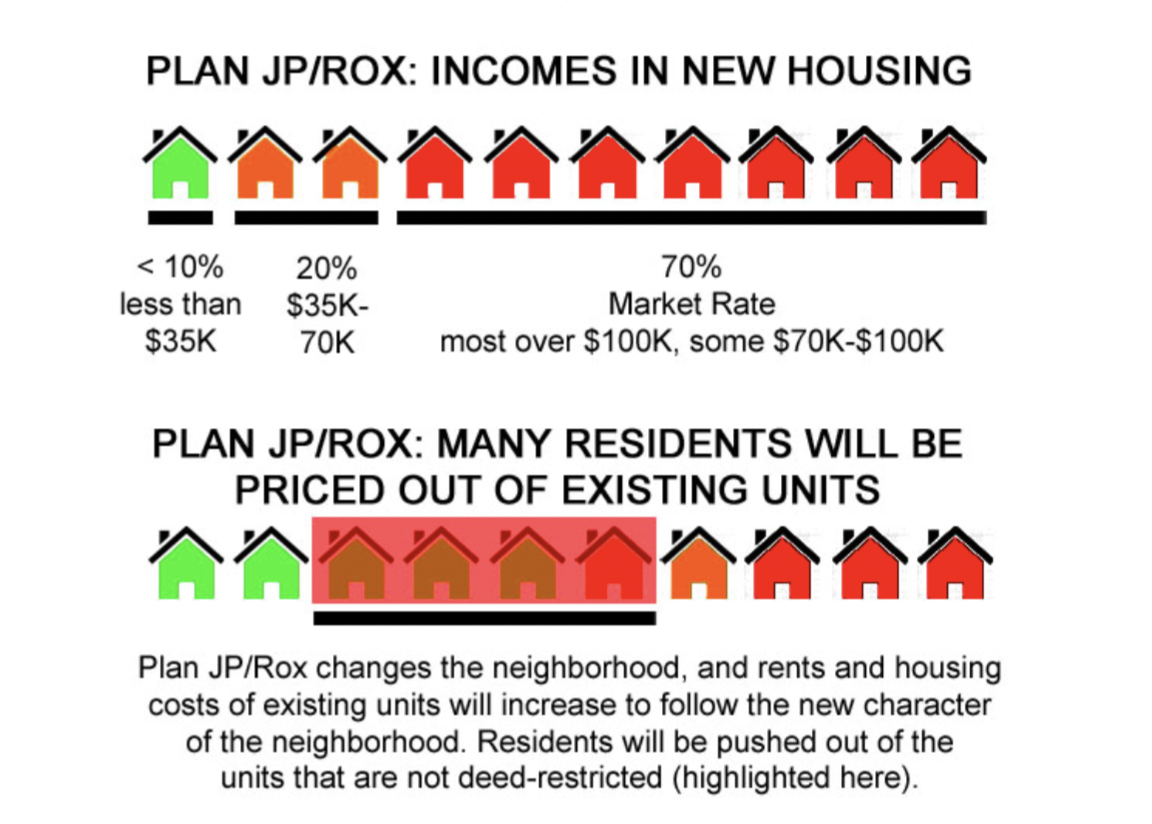 Plan JP/Rox faced fierce community resistance, led by Keep It 100% for Egleston, a group of Black and Brown residents of Egleston Square who centered the voices of neighborhood youth in their work (see: here, here, here, and here). Keep It 100% for Egleston and their community allies insisted that Plan JP/Rox should not go forward unless the BPDA increased the plan's affordability requirements to reflect the income levels of people living in the Washington Street Corridor in order to ensure that existing residents would not be displaced of the community. Keep It 100% Egleston insisted that 40% of new units build under Plan JP/Rox should be affordable to households making under $25,000/year, 10% of new units should be affordable to households making $25,000-$35,000/year, 10% of new units should be affordable to households making $35,000-$50,000/year, 5% of new units should be affordable to households making $50,000-$60,000/year, and 5% of new units should be affordable to households making $60,000-$70,000/year – given that these requirements would reflect the income distribution of people living in the Washington Street Corridor.
The BPDA ultimately pushed Plan JP/Rox forward over the voices of these and other impacted community members. The BDPA gave their final approval to Plan JP/Rox in 2017, following a hearing and vote in a room of Boston City Hall where police officers swarmed around and videotaped Black and Brown community members who had showed up to stage one final act of protest against the BPDA's insistence upon prying apart their communities for the benefit of profit-hungry real estate developers. Plan JP/Rox is just one recent example of the City of Boston's long and ongoing history of driving Black and Brown working class residents out of their homes and communities by prioritizing the interests of universities, corporations, and professional-class transplants who want to move into Boston's communities – see also: here, here, here, here.